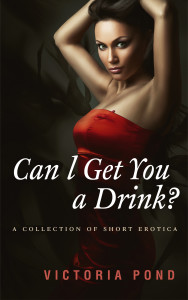 Can I Get You a Drink? is a collection of contemporary erotic romance. It covers a smattering of sexualities including heterosexual couples, homosexual couples, and a threesome. Between coffee and alcohol ("social lubrication," "liquid courage"), drinking features heavily in modern relationships (and hookups). And it's the element that ties these stories together.
• "Trivia Night at the Zócalo" (m/m) explores what can happen when a barista reciprocates a customer's inevitable crush.
• "The Three Temptations of Mara Samun" (m/f/m) shows that age (3,500 years) doesn't get in the way of a good time… at least, for vampires.
• In "Day Trip," (f/f) two ladies share a pint and something more in a bar's dimly lit booth.
• "Masquerade on Poker Night" (m/f) summons a coffeeshop-owning succubus to stimulate the senses.
• "Wardrobe Mistress" (m/f) delves into the daydreaming desire of every fan who ever attends a concert.
Today's Special: Buy 3 orgasms, get 2 free. This collection and the individual stories were co-released. You can order the prix fixe meal, or just have your favorites à la carte.
A previous edition of "Day Trip" appeared in Sex in London (edited by Elizabeth Coldwell). All other stories are new with this release.